Get Noticed on Social Media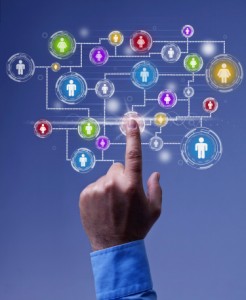 Social networking has become ubiquitous in all spheres of life: connecting with old friends, managing event calendars, and even helping you find your next job. With so many job seekers using social media to show off their skills, how can you differentiate yourself from the pack so that a potential employer will notice you?
Speak up
According to one social media expert, sharing some sort of industry-relevant content with your network at least once a week makes it 10 times more likely that you'll be contacted by a recruiter or hiring manager. Engage regularly on social media by
posting questions on your profile or starting a discussion,
answering a question or posting advice on others' profiles,
adding or responding to comments on an industry or company blog, and
viewing and commenting on professional videos.
This type of activity keeps you in front of your network, which is important — if an opportunity arises that you'd find ideal, you could be the first one to be recommended or informed, which gives you an advantage over other applicants. Remember to be professional and career-focused in all your interactions!
Be your best
Put your best foot forward. You wouldn't walk into an interview drunk or disorderly, so don't show up that way on Facebook or Twitter. Make sure that all your online activity follows these guidelines:
Complete your profile. A partially completed profile is like showing up without your résumé or list of references. Make sure that photos are professional and skill-set lists are up-to-date.
Be honest. Don't pretend to be something you're not or have skills you don't possess. Also, don't profess to like something or someone just to expand your network.
Be positive. Don't use social media to complain about your last employer. Likewise, don't put down yourself or your skills.
Be professional. Don't post photos or write about how much you "love to party" or "called in sick" because of your hangover. According to Media Bistro, one-third of employers report that they have rejected job candidates based on something they saw on social media — don't be a part of that statistic. And be sure to check your friends' feeds, too, for unflattering evidence you're referenced to or tagged in.
Get crafty
A variety of tools are available to customize your social media profiles. You can use Facebook analytics, Twitter cards, Vine videos, Instagram, and more to personalize and promote your online presence. Although some of these efforts take time to set up, afterwards you can use scheduling tools to keep content flowing with less effort.
Get active
Social media has become a true community. To get the most out of being a part of it, be sure to give back to it:
Participate in discussions on professional sites.
Engage with groups.
Offer insights, tips, and advice.
Sound like a commitment? It is. But it's worth it. Schedule social media upkeep into your week, and your job search will soon reap the benefits.
Click here for more tips on how to leverage social media to stand out as a potential job candidate.
Working with a firm like Chase Technology Consultants can help you stand out even further to potential employers and in future interviews. Contact our experts in Java, PHP, .NET, SQL, PM, and sales interviewing by phone,
(617) 227-5000
, or email,
interviewGURU@chasetechconsultants.com
.