Use Social Media to Drive Your Job Search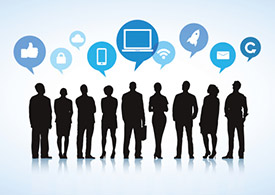 The role of social media in the hiring process is growing at an astonishing pace. According to Media Bistro, 92% of companies used social media for recruitment in 2012, and 45% of Fortune 500 companies link to social media profiles on their career pages. As a job seeker, how can you use this trend to your advantage in finding the right job?
Be aware
First, understand that your online presence is like having a perpetual résumé circulating through the industry. Even when you aren't actively searching for work, companies and recruiters might be using keyword searches or special interest pages to seek you out for a new opportunity (which is a good thing — you should always be keeping an eye on the job market).
According to Media Bistro, of those companies that recruit via social media:
93% use LinkedIn,
66% use Facebook,
54% use Twitter, and
73% have hired candidates they found through social recruitment efforts. In contrast, only 29% of job seekers use social media as their primary job-hunting tool.
These numbers reflect a need for job seekers to pay constant attention to their presence on social media sites. Up to a third of U.S. businesses check social media profiles, so make sure that yours represent you accurately and professionally. And take advantage of industry-specific sites or job boards such as Stack Overflow, GitHub, and Dice to highlight your skill set, industry involvement, and capabilities in ways that can't be displayed on a résumé.
Be on the lookout
Of course, the flipside of this trend is that unprofessional behavior can come back to bite you later — swiftly and suddenly. Take immediate action to clean up your digital "dirt."
And it isn't just job candidates who need to be cautious of the power of social media. Companies looking to find out more information about potential new employees online could unwittingly break federal hiring laws in doing so, (see sidebar).
Make it work
Researching an organization's website and social media pages can tell you a lot about the company. Take a look at a potential employer's online presence to help you decide whether you'd want to be a part of the organization:
Are pages updated, focused, and engaging, or out-of-date and chock-full of irrelevant information or negative comments?
What can you tell about the corporate culture?
What is the company's focus and mission?
And remember, recruiters use social media too. By connecting to a recruiter through LinkedIn, Twitter, or another social media platform, you can meet others in your field, get the latest industry news and job openings, and learn from other candidates' experiences with specific companies.
Your best bet
Work with a recruiter who knows the best ways to leverage social media for your job search. A good recruiter will know "tricks of the trade" that you can use to put your best foot forward.
To find out how Chase Technology Consultants can help you find the perfect company — or employee — contact us at (617) 227-5000 or
info@chasetechconsultants.com
.