Find Your Tailor-Made Job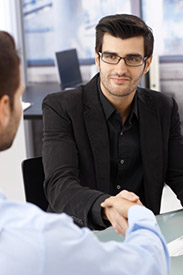 How can you find the perfect job? A recruiter can help. At Chase Technology Consultants, we have tools to find the right match between employers and job seekers.
Client meet
In a "client meet," CTC representatives meet with a client company at the client's site to see the company in action, and to gather the intel job seekers really want to know about a potential employer: its history, company size and dynamic, goals, open positions, and most of all — what makes it an exceptional place to work.
Tristan Marchette, CTC's Executive Vice President and Director of Client Relations, explains that this meeting helps to bring the potential role to life for his recruiters. "In turn," he says, "we can share this valuable information with the candidate so he or she can better prepare for the interview." This enables the establishment of a more efficient and effective hiring process.
"We really dig into the details," says Marchette, like "where the company's been and where it's going, why the role is open, what the work environment and team culture are like, what skills are required and preferred for the role, what intangibles the ideal candidates should or should not possess, the ins and outs of the open positions, noteworthy benefits and perks…"
The client meet is what sets CTC apart from competitors. It's an opportunity for CTC to get a firm grasp of the company culture and do more than just checking off job requirements. "Culture is always important," points out Marchette. "It is what we do best: Matching a candidate's culture to an organization's culture is our expertise." From the right role and opportunity for growth to ideal location to salary requirements, CTC is dedicated to finding the 360-degree fit for employers and employees alike.
What's an example of a cultural mismatch? Marchette explains: "If someone wants to skateboard to work from Somerville and likes to wear jeans and a T-shirt to work every day, then we are not going to send them to one of our hedge-fund clients. If a company tells us they want individuals who can work on a small team in a startup here in Boston, we are not going to send them candidates that tell us they want stability, prefer to work outside the city, and need a job that can offer a work/life balance due to the growth of their young family."
Prospective employers appreciate the importance of culture in differentiating a company. "Talent is in the driver's seat right now," says Marchette. "The difference between a candidate taking one job over another is the client who understands that and does what it takes to attract talent, as opposed to thinking they call the shots. For example, Wall Street is losing large percentages of recent Ivy League grads to the tech space. Those companies that hold onto that archaic Wall Street mentality of long hours and 'one should feel lucky to work here' are getting left behind. The smartest and most successful companies are doing everything possible in this market to build a great employee-centric culture, and embrace it and sell it."
Client-in
"The struggle right now is the employer having a hard time finding and attracting talent," says Marchette. "The client-in gives the client company an opportunity to sell their role to potential employees, face to face."
We've discussed client-in events before, but as a recap: For a client-in, the client's hiring authorities come to CTC HQ to meet face-to-face with 4-6 candidates for first-round interviews conducted in a speed-dating like manner.
The process offers a logistical advantage for both candidates and clients. "When we run a client-in, we gather real-time feedback from both parties," says Marchette. "If there is mutual interest, we often have that second-round interview scheduled before the client and candidate leave our office. This process ensures that the client and candidate are getting through the [interview and hiring] process in the most efficient manner, to give both parties the best opportunity at getting to a delivered and accepted offer. So by doing an interview in our office, clients can make a play on the most qualified candidates, and candidates can get employment offers — faster."
Marchette notes that CTC measures the success of these processes strictly on placement ratio. "We fill 84% of roles when clients give us a chance to visit their offices, and then they commit to coming to ours to meet a cross-section of our candidates."