How to Use Culture to Find the Right Job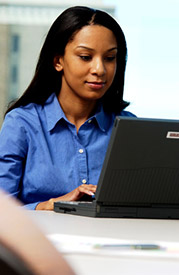 Q. How can I use corporate culture to find the right job?
A. Corporate culture affects many aspects of your life, not just your happiness and productivity in the workplace — so it's an important factor to consider in your job search. Understanding the cultures of the companies can help you to determine whether you're a good fit for the company (and vice versa), and whether or not you should apply.
When your ethics, goals, values, work habits, and communication style are in line with your employer's, you're more likely to be happy and stay for the long-term. And not only that, but culture is a major motivator to excel in your work, which benefits both you and your employer.
So how can you determine an organization's culture before you're actually hired? Try these steps:
Another way to determine the culture behind an employment offer is to work with a recruiter who takes the time to get to know you, what type of culture you'd fit in with, and what you value in an employer. A good recruiter won't waste your time — or a hiring company's time — with ill-fitting opportunities, but will instead introduce only the right matches.
Chase Technology Consultants can help you find an employer whose culture fits your talents and needs. Contact Jared Franklin at (617) 935-4150 or
jfranklin@chasetechconsultants.com
to find out how.