What Makes a Company Stand Out from the Pack?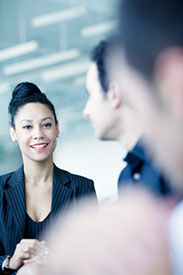 What makes a company unique? Many might argue that its products, logo, or branding are what makes an organization stand out. However, the true distinguishing factor — at least, for the people who spend each workday there — is the corporate culture. What makes up a company's culture, and why should potential employees care?
What creates culture
A company's culture comprises the tangible and intangible characteristics that make that company unique:
Core values — What values does the company hold dear? More important, what does it expect employees to care about? A company that believes in driven innovation isn't likely to be a good fit for someone who wants to leave at 5 p.m. to get home to family.
Environment — Work environments vary greatly — for example, one company may offer a relaxed scenario with shared workspaces and "bring your dog to work" days, while another company has a much more formal atmosphere with cubicles and private offices.
Communication — How do company leaders convey strategies, policies, and company changes to employees? Is communication transparent, or on a need-to-know basis?
Dress code — Related to environment, dress codes indicate how strict or relaxed the culture is.
Perks — Does the company offer team-building, training, and recreational events for employees? Sponsor continuing education programs or professional development opportunities? Perks show what the company thinks (or expects) employees care about.
Respect — Does the company embrace diversity? Is there mutual respect between company leaders and staff?
Team spirit — A strong team mentality might translate into willingness to put in extra hours, or create a more family-like atmosphere.
When researching a potential employer, job seekers should carefully consider these factors. After all, no matter how technically capable you are, if you're not comfortable in your work environment, you won't thrive.
Why culture matters
Harvard Business School professor Howard Stevenson notes, "Maintaining an effective culture is so important that it, in fact, trumps even strategy." A culture that sustains and inspires employees offers these benefits:
Employees are happier, more motivated, and more energetic. Tasks don't seem onerous because the rationale behind them meshes with workers' goals.
Productivity and performance improve. Employees find it easier to work together as a team and support one another — and the overarching mission — rather than working against one another or management.
Employee loyalty gets a boost. When employees feel like part of the team and know that everyone at every level of the organization has the same goals and values, they trust and become more loyal to the company.
Employee retention rate increases. Sure, sometimes a hire will turn out to clash with the company's culture. In such instances, a parting of the ways will prove mutually beneficial. But for the most part, when employees fit into the culture, they are more satisfied, perform better, and are less likely to leave.
Companies and employees that want these benefits should make culture a priority in their employee or job searches.
Finding the right fit
For job seekers and hirers alike, knowing whether a candidate will fit into the company's culture is as important as knowing whether the candidate is qualified to hold the job.
If you're on the hunt for work, researching prospective employers can help you to determine whether the company is a good fit. The Harvard Business Review suggests that candidates look past the company's mission or vision statement to find out not just what the company does, but how it completes its purpose.
How much emphasis is placed on performance, for example? On quality versus quantity? On teamwork versus individual accomplishments? How do people within the organization communicate? What are the company's ethics? Some insight can be gleaned from the organization's website or public reputation; more can be gathered by talking with current or past employees. And don't be afraid to ask for an opportunity to immerse yourself in the corporate culture by, for example, meeting the team for lunch or spending an afternoon in the office. (See this issue's Ask an Expert section, "How to Use Culture to Find the Right Job," for more ways to determine a company's culture.)
Prospective employers can increase the odds of hiring employees who fit in with the culture by being clear and upfront about the company's ethics, expectations, and priorities. If you do hire someone based on performance or experience alone, don't expect them to "learn to fit in" or have a seamless transition into the team.
Whether you're a job seeker or a hiring manager, consider working with a recruiter to help ensure a good cultural fit and a smoother onboarding process. A good recruiter should be able to obtain and provide valuable insight into an organization's culture and use it to effectively answer job seekers' culture-related questions and market the company to potential candidates.
To find out how Chase Technology Consultants can help you find the perfect company — or employee — contact us at (617) 227-5000 or
info@chasetechconsultants.com
.