Are You Prepared for a Real-World Job?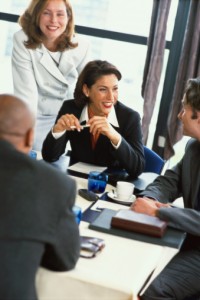 Recent STEM graduates are entering a job market that values their "hard skills" — their knowledge and technical competencies in the disciplines of science, technology, engineering, and math. Yet these same candidates are running into trouble because of a lack of "soft skills" — the capabilities necessary for successfully navigating the real-world workplace. If you can design a killer app in a day but can't manage to show up to work on time or lead a team meeting, you could be in danger of missing out on job opportunities.
Candidates lack soft skills
Time notes that the majority of employers say that job applicants' lack of these "soft skills" is making them unfit for hire:
Interpersonal communication
Motivation
Punctuality
Critical thinking
Problem solving
Organization
Collaboration
Job candidates — especially less-expensive, entry-level candidates such as new college grads — are in high demand. Unfortunately, the majority seem to have very little idea of what companies really want.
What do managers want?
A recent Chegg study of about 2,000 college students and 1,000 hiring managers found "a significant disconnect" between what hiring managers were looking for and what students thought those managers wanted:
Only about a quarter of the hiring managers cared about the pedigree of a candidate's university. (Students expected the number to be twice that.)
Employers were much more interested in a demonstrated initiative to lead, participation in relevant extracurricular activities, and previous internship experience.
The biggest area of concern related to a gap between students' estimation of their on-the-job skills and the hiring managers' assessment of those capabilities. This was especially true for tasks such as creating a budget, prioritizing work, managing a project or meeting, and communicating ideas clearly in writing.
A survey by the Career Advisory Board came to a similar conclusion: Most newly minted college grads don't know what hiring managers want and overestimate their current capabilities. This study found that hiring organizations place the highest value on the following skills:
For entry-level employees: a strong work ethic, self-starter attitude (ability to self-motivate), and team spirit (ability to work well in groups)
For mid-level prospects: strong problem-solving, time-management, and communication skills
For managerial-level candidates: a strategic, global outlook; high integrity; and "business acumen"
Get to work
What can job candidates do to appeal to hiring managers? The Career Advisory Board offers these tips:
Get a mentor. Three-quarters of the surveyed hiring managers said that "job seekers should have someone to talk to in order to determine whether their skills are a match" for the jobs they want. If you don't have a mentor, you can begin by talking with a hiring consultant such as as those at Chase Technology Consultants (CTC) to get an idea of what hiring organizations are looking for.
Take the initiative. The majority of hiring managers said that employees should be "mostly responsible" for developing their skills, as opposed to relying on employers to provide on-the-job training or development. Look for learning opportunities that go beyond education and into actual experience, such as internships or contract work.
Be adaptable. The majority of hiring managers want candidates who can demonstrate an ability to "cope with the day-to-day changes in the workplace." Practice organizational and self-motivation skills to improve adaptability. As overused as it might be, "learn to be a team player" is actually sound advice.
Improve your critical thinking — and writing — skills. Take advantage of resources that offer ways to brush up on your business writing and other communication and critical thinking capabilities (a good place to start is The Critical Thinking Community).
Show up. Train yourself to be on time by leaving earlier for appointments. Practice organizational and prioritization skills.
As you can see, there are many ways you can show prospective employers that you're prepared to work in a business environment. If you need help strengthening your soft skills, don't hesitate to talk with people in the trenches who know what hiring managers want. CTC can help you to evaluate your skills and capabilities and find ways to improve them.
Are your soft skills up to snuff? Contact Chase Technology Consultants at (617) 227-5000 or
info@chasetechconsultants.com
to learn how we can help get you up to speed.