What Advantages Do IT Recruiters Offer Tech Contractors and Part-Time Employees?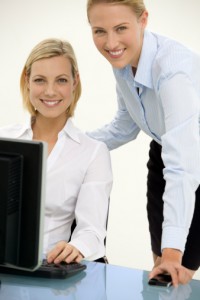 For a tech professional who wants either contracting or part-time work, a reputable recruiting firm can be your best friend. Recruiting firms can help take care of many of the more practical aspects of finding assignments, such as wage negotiation, marketing and advertising, and insurance benefits. And for today's IT pros, those are all advantages worth striving for.
Getting started
For professionals just entering the workforce after college or for those who are dipping their toes into the contracting pool, a recruiter can be a godsend. Recruiters already possess a wealth of resources and expertise to evaluate your skill set — and suggest ways to strengthen it — as well as find assignments that fit your capabilities and interests.
Because recruiters have established relationships with hiring managers and a longer-term, higher-level view of what those managers want and need, a good recruiter can help you expand your skill set and project portfolio, making you more marketable. New, diverse assignments are continually flowing into the recruitment firm's pipeline. If you want to expand your horizons, express that interest to your recruiter — and then get to work finding ways to teach yourself what you need to know to qualify for such opportunities.
A recruiter's success is intertwined with yours, so you can expect the recruiter to negotiate on your behalf. As it will be in the workplace, communication is vital. Always be honest with your recruiter about your qualifications, ambitions, and interests, as well as about areas you feel need strengthening. Good agencies provide (or can point you to) training and career development resources.
Help where you need it
Another challenge of contracting or part-time work is replacing the benefits that come with full-time employment, such as health insurance. Many recruiters offer a range of assistance with these types of issues, from taking care of withholding to offering group insurance buy-ins or workers' compensation.
Recruiting companies can also help you stabilize your finances by paying you on a regular schedule, offering direct deposit, withholding taxes, or negotiating overtime pay. And should you find a company that you'd like to work for full time, a recruiter can help you make that move. Having a relationship with a recruiting agency that knows your skill set and employment track record can give you an advantage in being considered for permanent placements.
An experienced, reliable IT recruitment firm such as Chase Technology Consultants (CTC) can provide these and other advantages. Take advantage of CTC to find the best of both worlds: the flexibility and rewarding assignments you want, and the consistent, long-term connections that you need for a successful career.