Master the Panel Interview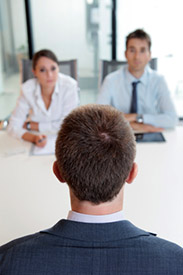 Panel interviews have become popular in recent years. In the IT industry, these interviews help make the hiring process more efficient by bringing together a candidate and everyone who needs to interview him or her. As opposed to the traditional style of hustling the candidate from one interview to another for the better part of a day (or over the span of a few weeks), the panel interview saves employers time and gives them a way to compare notes on the shared interview.
Despite the practice's advantages, some job seekers — especially those who have never experienced a panel interview — find the idea intimidating. Fortunately, there are things you can do to help put yourself at ease in a panel interview. Follow these tips to take the panic out of the panel experience.
Practice makes perfect
Spend some time thinking about which questions you might be asked, and rehearse your answers ahead of time. If you'll be making a presentation, make sure you've researched and run through your topic several times. In addition, try to find out in advance the names and titles of those who will be in the room with you.
If the thought of speaking to a group leaves you in a cold sweat, you might have presentation anxiety. You can use stress-management techniques to ease your fears. If they originate from a bad experience, try to counteract whatever went wrong. For example, if you were mocked in high school because of a poorly prepared speech, take extra time to research your audience and topic.
Also get plenty of practice. Go over your presentation, out loud, both alone and in front of friends. Doing so makes it less nerve-wracking when the real opportunity arrives.
Can you repeat that?
Although panel interviews mean you won't be repeating the same spiel over and over in multiple meetings, you might still be asked to clarify or restate something — sometimes more than once, says executive resume writer Laura Smith-Proulx. After all, you are still dealing with multiple people. Do your best to remain patient, and don't presume that information you might have provided in previous comments or interviews has made it through to all the panel participants.
Individual attention
Speaking of multiple panel participants, remember that their different listening styles, experience levels, and job expectations mean that you should treat each of them as individuals rather than a single group. Forbes suggests that you introduce yourself to each person at the start of the interview. Doing so can also help to minimize anxiety. If you're sitting at a table, you can ask for business cards and arrange them in order to help you remember who's who during the session, or write the names in order in your notes.
Forbes also notes that it's important to make connections with all participants, so divide your attention as you answer questions and give presentations. Rather than responding to just one person, make eye contact with and direct responses to each member. When you ask questions, try to address them to the most appropriate person in the group, rather than directing all questions to the facilitator. And instead of sending one thank-you note or follow-up message and CC'ing the entire group, send a personalized note to each member.
Recruit the right help
If you're working with a recruiter like Chase Technology Consultants, you already have a leg up. Your IT staffing specialist has established trusting relationships with hiring companies and is a great resource for employer research. Don't be afraid to ask your recruiter for information about a company, the hiring managers, and the interview format and process – we have all that information!
Working with a firm that helps you find the right fit for your skills can make all the difference. In fact, having Chase Technology Consultants on your side might actually make you look forward to your next job interview. Contact
our experts in Java, PHP, .NET, SQL, PM, and sales interviewing
by phone,
(617) 227-5000
, or email,
interviewGURU@Chasetechconsultants.com
.