Want More Career Flexibility? A Staffing Firm Can Help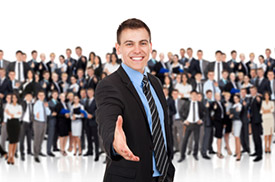 Are you looking for more flexibility in your work? Do you wish you could travel the world or work outside the regular nine-to-five? Technology is making it possible for many "digital nomads" to do just that. But many such pros — like Piero Toffanin, Greg Jorgensen, and Clayton Cornell — warn that landing work can be a challenge for those whose work isn't tied to a particular location.
For aspiring digital nomads, staffing firms can offer a solution. Working with a staffing firm can open up opportunities that provide the flexibility to work part-time, relocate, or take time off to travel or work on other projects. And because firms such as Chase Technology Consultants (CTC) have longstanding relationships with client employers, they can help assuage employers' concerns with flexible work arrangements.
Here's a rundown of the benefits that working with a staffing firm provides for professionals who are seeking career flexibility:
Helps you find a position in an area to which you want to relocate — Because firms such as CTC have an extensive network of employer partners, the recruiter can locate job opportunities in your desired location and even work with you to finalize an assignment before making the move. (More tips on how to make a long-distance job search work here.)
Helps you find part-time or temp and contract work — If you want to travel, work on other projects, or balance work and family, a staffing firm can help you locate jobs that fit your needs.
Provides you regular pay and related services — Working as a contractor through a staffing firm like CTC ensures that you will be paid regularly and have the necessary taxes withheld, and it can even offer benefits such as health insurance and a 401(k) plan, as CTC does.
Finds you contract-to-hire opportunities — When you do decide it's time to settle down, CTC can help make the transition back into full-time employment easier. While the life of a digital nomad is becoming more commonly accepted, some employers may still be hesitant to hire you when you decide to return to an office setting. CTC has strong connections with many employers and can vouch for your qualifications and skills.
An experienced, reliable IT recruitment firm such as CTC can offer these benefits and more to those seeking a more flexible, and even location-independent, work situation.