Blast Through Your Networking Fears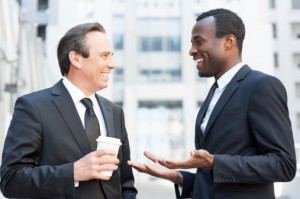 Networking is a vital activity, whether you're looking for work now or simply staying relevant in case of a future job move. However, for many people this activity isn't an easy one. Professional networking is an essential part of the job search and increases your likelihood of finding the job you want — in fact, 62% of jobs are found through networking and direct contact. So why do so many job seekers resist networking?
They feel it's self-serving and pushy.
They don't like talking to people they don't know.
They don't know how to network.
Networking is a highly useful tool for finding a job and expanding your business connections, so it's important to be comfortable with it and hone your networking skills.
Connect the dots
Even extroverts can have a difficult time networking, depending on the situation. Here are some steps you can take to make this type of interaction easier:
Prepare. Compile a list of people with whom you'd like to network. Decide what information you want to convey during the conversation. Rehearse or write it down.
Set a goal. Make one networking phone call per day, reply to one LinkedIn update, send one invitation each week, or attend a professional networking event once per month, says JobHunt.org. Setting a goal helps keep you motivated and moving forward.
Ask for an introduction. When you meet a contact who knows someone you should meet (such as a friend of the owner of the company you'd like to work for), ask your contact to introduce you via email.
Reach out to members of your LinkedIn network. LinkedIn makes it easy to network online and even in person. Change your LinkedIn settings to receive notifications, then reach out to members of your network whenever you get notice of a birthday or job change.
Attend networking events. Try to go by yourself so you're more motivated to talk with people you don't know.
Go mobile. If you're more comfortable with interacting online, consider using a mobile professional networking app such as Coffee to get the conversation started.
Renew your contacts with recruiters. If you've worked with a good recruiter in the past but haven't kept in touch, contact the firm now and let them know that you're interested in potential work or want to get the latest industry news. (You should always maintain contact with recruiters even when you're happily employed, to stay top-of-mind!) Or forge a new relationship with a recruiting firm such as Chase Technology Consultants (CTC). CTC can be a valuable part of your business network, whether you're looking for a job or just want to stay informed about new opportunities most relevant to you.
Networking needn't be painful. Like any skill, it simply takes practice. Don't shy away from networking — it just might be the key that opens the door to your next job.
Working with a firm that helps you find the right fit for your skills can make all the difference. In fact, having Chase Technology Consultants on your side might actually make you look forward to your next job interview. Contact
our experts in Java, PHP, .NET, SQL, PM, and sales interviewing
by phone,
(617) 227-5000
, or email,
interviewGURU@chasetechconsultants.com
.