When to Follow Up with a Prospective Employer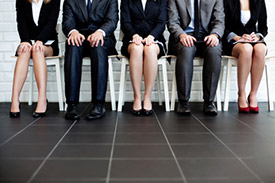 Waiting is hard, especially after you've submitted an application or completed a job interview. But if you don't follow the correct etiquette after interviewing or applying for a job, you could hurt your chances of being hired or considered for the position.
Career experts say there's a right and a wrong way to follow up post-application or post-interview. The following do's and don'ts will help you follow up correctly and present yourself as a focused and goal-oriented prospective employee rather than an annoying and desperate one.

Post-application do's and don'ts

Do be patient. An employer may have received hundreds of applications and needs time to review them.
Don't forget to check your spam folder for a receipt-confirmation message from the prospective employer.
Do confirm that your email has been received. To do so, you can use a solution like the Sidekick app for Google Chrome to get real-time notifications of when recipients open your email and whether they click any links within. You can immediately know whether a prospective employer has initial interest in your application.
Don't send an immediate follow-up email or call. After about one week, check in with the hiring department via email to verify that your materials were received and to reiterate your interest and qualifications for the position.
Do follow up with the employer by either email or phone two weeks after receiving a receipt-confirmation if, by then, you haven't heard from anyone regarding your candidacy. Make sure any communications are positive and energetic rather than nervous, and practice a scripted message ahead of time to make sure any voicemails sound focused and professional.

Post-interview do's and don'ts

Do ask at the end of your interview when you should expect to hear back regarding the hiring manager's decision.
Don't contact the interviewer to ask about the hiring decision until this date passes. If you didn't obtain the deadline, contact the hiring manager no sooner than three days and no later than five days after the interview.
Do send an email thank-you note as soon as possible, preferably within 24 hours of the interview. You can download and customize any of the 10 thank-you note templates from "How to Seal the Deal: Proper Post-Interview Etiquette" to make it memorable and reflect the rapport you established during the interview.
Don't overdo your follow-up. If the deadline has passed and the interviewer hasn't contacted you, it's ok to follow up as many as three additional times, waiting at least three days between each contact. If you still haven't heard back, you should assume you aren't being considered for the job and direct your energy elsewhere.
Do check in with the interviewer once the deadline date has passed and you haven't yet heard anything. Send a succinct "check-in" email to remind the interviewer of your interest in and qualifications for the job, and to diplomatically ask for an update.
Job seekers must walk a fine line between being pushy and assertive. Following up with a prospective employer — when done correctly — can highlight your poise and professionalism and even help the hiring manager remember you favorably. But following up too soon, or too often, could backfire and cost you the job.
[cta]Take the guesswork out of your job search by partnering with the experienced IT staffing team at Chase Technology Consultants! Contact us at (617) 227-5000 or info@chasetechconsultants.com.[/cta]